This classic Victorian Greenhouse kit provides the optimum environment for gardening year round while adding a stately presence to any backyard setting.
The dark green aluminum framework, tempered glass panels and full 6' 7" wall height combine to give you a comfortable interior workspace and a full view of your surroundings. The overall height is 9'2" feet.
Whether you are overwintering special or valuable plants from the cold, starting seedlings or creating a tropical jungle, you can enjoy years of maintenance-free use. The automatic roof openers, louvered window openers and misting system are included to allow you to control the environment within your greenhouse to your specific needs. An optional shade net is also available as an added accessory if you need more shade in your greenhouse.
Take a Video Tour
To see a great description of all the vi-46 features, view the video below submitted by Soraya M.

Glass or Polycarbonate Construction - Choose Which Best For You
The Victorian Greenhouse line is available with either 4mm Tempered Glass or 10mm Twin Wall Polycarbonate walls. Each choice has a unique set of advantages allowing you to pick the option which will work best for your needs.
Advantages of Tempered Glass
Full transparency is a better "look" for some applications, especially if using the structure for non plant-growing purposes
Maximum amount of natural light when using structure for growing plants
No fading or discoloration over lifespan
Flame resistant
Glass is a chemical free, environmentally friendly material
Advantages of Polycarbonate
Almost impossible to break, polycarbonate will flex and resist against things like objects hitting the panels or heavy wind and snow loads
Blocks harmful UV rays and creates a diffused light environment that promotes consistent light conditions throughout the interior of the structure
Has been shown to retain heat more efficiantly than glass, an advantage in cold weather growing environments
Low maintenance, will demand less cleaning than glass while still looking great.
The VI46 Has All The Space You Need:
Aluminum framework is large in scale, thick gauge and strong
Large 250 Sq. Ft.
Extra roof support cross bar
4mm tempered glass for safety and good insulation value. Glass is secured in place with heavy rubber sealing
6'7" full height side panels provide excellent headroom along the interior sides, with an 9'2" overall height at peak.
Decorative roof ridge adds a touch of English sophistication
Also available with strong polycarbonate panels (special order)
Several accessories are available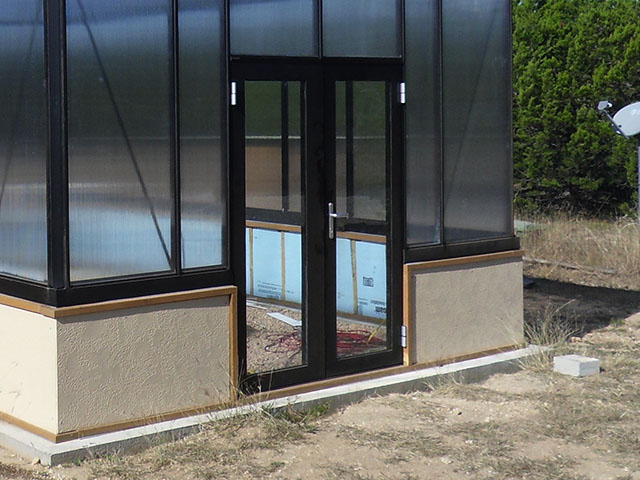 New!
Lockable Hinged Door in either Single or Double (pictured) configuration, with black or dark green framing.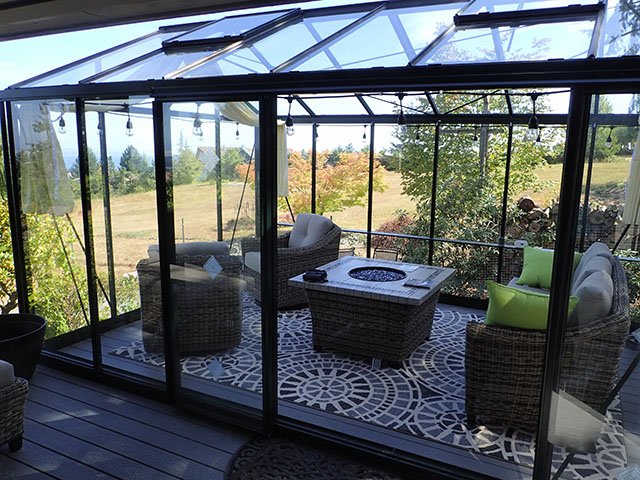 New!
Lockable Single and Double (pictured) Sliding Doors are available with either black or dark green framing.